Unlock Your Potential with GrowthGuide: I Ching Wisdom at Your Fingertips
Embark on a transformative journey with GrowthGuide, your companion for personal development. By merging the ancient wisdom of I Ching with cutting-edge AI, our app delivers unique, insightful guidance. Navigate life's complexities, enhance your self-awareness, and propel personal growth.
Download GrowthGuide now - where technology meets timeless wisdom.
AI Ching App Screenshots
AI Ching App Onboarding Screen
Embrace a new era of personal development with GrowthGuide. Drawing on the ancient Chinese divination text of I Ching, our ai ching app offers a remarkable, user-friendly experience designed to elevate your everyday life. By decoding insightful guidance from the I Ching, GrowthGuide supports your journey towards self-awareness, providing an intuitive tool to make more informed, harmonious decisions. Let the wisdom of the ages empower your personal growth journey. Dive in and discover the transformative power of GrowthGuide.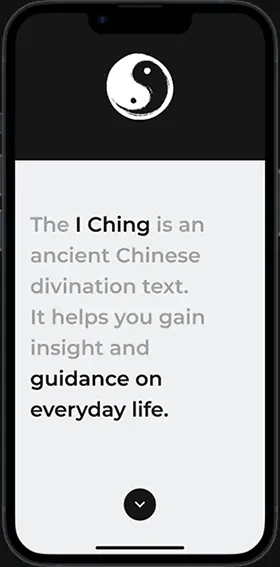 AI Ching App Hexagram List 1-64
Explore the world of self-improvement at your fingertips with GrowthGuide. Our application presents an interactive list of all 64 I Ching hexagrams, each a doorway to profound wisdom. Click on any hexagram to dive into its unique insights and guidance. This feature of GrowthGuide makes the ancient wisdom of I Ching accessible, serving as your personal guide on your journey of personal growth. From understanding life's complexities to fostering self-awareness, let each hexagram of the ai ching app illuminate your path.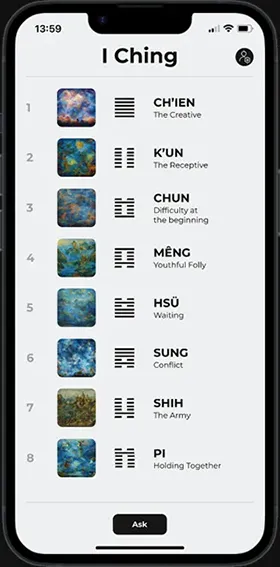 AI Ching App Details of a Specific Hexagram
Dive deeper into the wisdom of I Ching with GrowthGuide. Each hexagram's detailed view in our app offers a wealth of understanding about its significance and interpretation. As you explore these details, you'll gain nuanced insights and guidance tailored for your personal growth journey. From general meanings to the practical implications for your life, GrowthGuide translates the complex wisdom of each hexagram into easily digestible, actionable wisdom. Empower your self-improvement journey with the insights from each hexagram, all at your fingertips with GrowthGuide.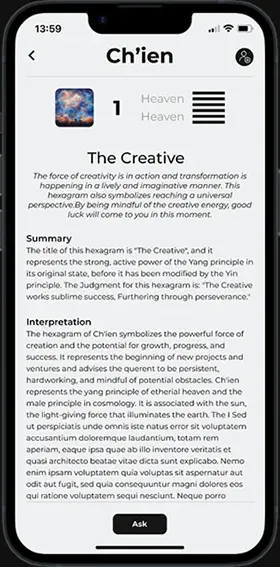 AI Ching App Generate a Hexagram
Engage with the timeless tradition of I Ching divination using GrowthGuide's intuitive tool. This feature allows users to generate a hexagram line by line, replicating the casting of three coins. With each click, experience the formation of your unique hexagram, opening a new path of wisdom for your personal growth journey. Watch as the application identifies changing lines and suggests alternative hexagrams, shedding new light on your personal development. Engage with the mysteries of the I Ching in an interactive, modern way with GrowthGuide.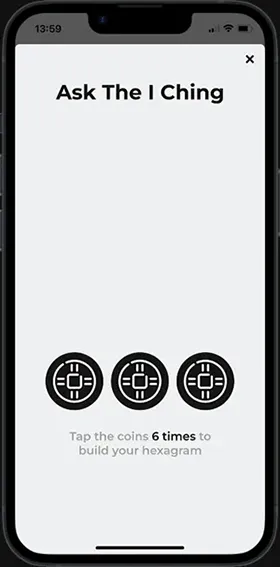 AI Ching App Build the Hexagram
Embark on a unique journey of self-discovery with GrowthGuide. The screenshot displays the app's interactive feature in progress, generating the first three lines of a hexagram based on the user's clicks on the virtual coins. This intuitive tool lets you actively participate in the ancient practice of I Ching divination, gradually unfolding a path of wisdom tailored to your personal growth journey.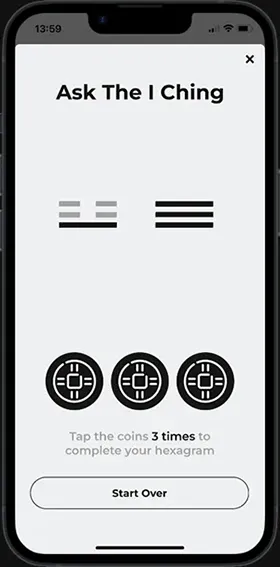 AI Ching App Final Screen of the generated Hexagram
Experience the culmination of your personal I Ching divination with GrowthGuide. The screenshot showcases the final, user-generated hexagram, complete with its unique pattern of lines. With a simple click, the app guides you to a detailed interpretation of the hexagram and highlights any changing lines. Uncover the profound wisdom embedded in your personal hexagram, empowering your journey of self-discovery and personal growth.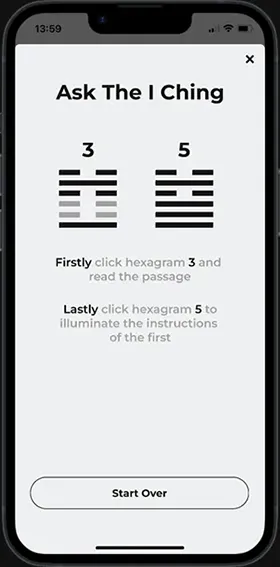 AI Ching App Settings Screen
Complete your GrowthGuide experience with our comprehensive settings screen. This interface provides a wealth of information about the I Ching, its history, and how to consult it. It also facilitates easy sharing with friends and encourages user interaction through app rating. Furthermore, it enhances user engagement with online discovery options, FAQs, feature requests, and bug reporting. Stay informed, connected, and contribute to GrowthGuide's development for a seamless personal growth journey.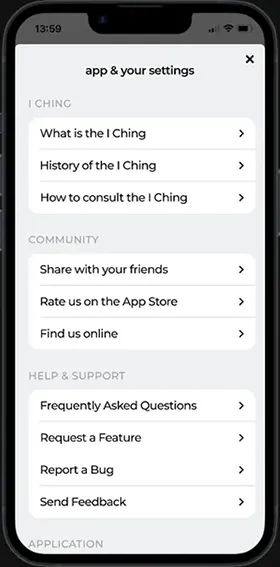 Useful Links
FREE Ebook - The I Ching: Life's GPS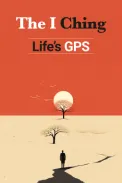 The Ultimate Guide to Life's Answers
Enter your Email & Get Yours for FREE!