Quick Summary: Tap into the Wisdom of the I Ching with Our Free JavaScript Tool
The I Ching Divination Script is a free, JavaScript-based tool that brings the ancient practice of I Ching directly to your web browser, offering a seamless way to cast hexagrams and receive guidance on personal growth. Easy to use by simply tossing virtual coins, this open-source tool provides links to interpretations, making the wisdom of the I Ching accessible without an app download. Whether for novice or seasoned users, it's a versatile aid in the journey of self-discovery and understanding.
Main Article
If you're on the journey of personal growth and are fascinated by the ancient wisdom of the I Ching, we have an exciting tool for you. The I Ching Divination Script is a free JavaScript-based tool designed to help you consult the I Ching online, directly from your web browser.
What is the I Ching Divination Script?
The I Ching Divination Script replicates the traditional I Ching coin toss method. This open-source project allows you to cast hexagrams, determine changing lines, and explore their interpretations conveniently and seamlessly. The script was created for individuals who wanted to consult the I Ching but were unable to download the app, offering an accessible and user-friendly solution.
How to Use the I Ching Divination Script
The I Ching Divination Script is easy to use, making the profound wisdom of the I Ching more accessible than ever.
First, clone the repository to your local machine.
Next, open the index.html file in a web browser.
Click the "Toss Coins" button to generate each line of the hexagram, repeating this six times.
Once all lines have been cast, the script will display the resulting hexagram(s) and link to their interpretations.
You can also check out a live demo of the application here.
Highlighting Features of the I Ching Divination Script
The I Ching Divination Script comes with several key features designed to enrich your experience:
Simulates I Ching Divination: The script faithfully replicates the process of an I Ching coin toss divination, allowing you to engage with the I Ching in an authentic and traditional manner.
Identifies Changing Lines: The script can identify "changing lines" within the hexagram, indicating potential transformations to a different hexagram.
Interpretation Links: For every hexagram generated, the script provides a link to the interpretation on the aiching.app website.
Delve Deeper into the I Ching
For those interested in an in-depth understanding of the hexagrams, the book "Embracing Life's Journey: Your Guide to Personal Growth with the I Ching" is an invaluable resource. Authored by the same team that created the script and the aiching.app, this book provides a comprehensive interpretation of the I Ching's wisdom.
And if you want to consult the I Ching on the go, the aiching.app is available for download on your mobile devices.
For those who wish to explore the traditional coin method in more detail, the comprehensive guide available here can deepen your understanding of this rich tradition.
Concluding Thoughts
Whether you're a novice or an experienced I Ching reader, the I Ching Divination Script is a user-friendly tool that can enhance your experience of consulting the I Ching. It's a free, accessible, and versatile tool that brings the profound wisdom of the I Ching into the digital realm, aiding in your journey towards personal growth. Harness the power of the I Ching online today with the I Ching Divination Script.
Useful Links
FREE Ebook - The I Ching: Life's GPS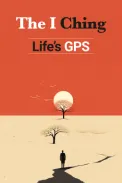 The Ultimate Guide to Life's Answers
Enter your Email & Get Yours for FREE!