Dear esteemed followers, friends, and patrons,
It brings me immense joy and a sense of humble gratitude to share a significant milestone we've achieved recently. Our very own AI Ching app has been honoured with the prestigious Web Excellence Award!
For those unfamiliar with this accolade, the Web Excellence Awards is a global recognition program presented by the Web Academy of Digital Arts and Media (WEADAM). It seeks to celebrate the incredible talent, diversity, innovation, and creativity that resides in the digital realm. This award is a salute to those visionary projects and minds that truly embody what it means to excel on the web.
This year, in the 10th season of these esteemed awards, our AI Ching app, which leverages the powerful ChatGPT for Hexagram Insights, emerged triumphant in the Apps & Mobile / Health & Wellness category. To be chosen from over 1,500 entries spanning 26 countries across 6 continents is a testament to our team's dedication, passion, and relentless pursuit of innovation.
However, no achievement is solitary. This victory belongs as much to our incredible team as it does to each one of you. Your unwavering support, feedback, and trust have been pivotal in our journey. Every click, every share, every piece of feedback has been a brick in the foundation of our success.
As we bask in the glow of this recognition, I want to take a moment to extend my heartfelt gratitude:
To Our Users: For believing in our vision, using our app, and being our most significant advocates.
To Our Critics: For pushing us to be better, challenging our ideas, and ensuring we never settle for mediocrity.
While this award is a significant milestone, it's also a reminder that our journey is just beginning. With the wind of this achievement at our back, we're more inspired than ever to keep pushing boundaries, innovating, and delivering excellence.
Thank you for being an integral part of this journey. Here's to many more milestones, innovations, and shared successes in the future!
Warmly,
James Godwin
Useful Links
FREE Ebook - The I Ching: Life's GPS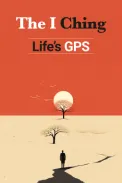 The Ultimate Guide to Life's Answers
Enter your Email & Get Yours for FREE!